QUARE - Daniel, Landon
1649: born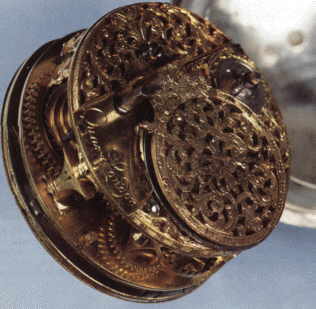 1671: Clockmakers Company
1708: Master of the Clockmakers Company
1724: died
A very celebrated maker of watches and clocks,
Invented repeating work for watches about 1680,
Repeating watch submitted to James II for patent, (In competition with Edward Barlow)
Made several one-year 1ong case clocks: one in Hampton Court,
Devised a motion work enabling hour and minute hands to be set together.
Magnificent Boulle work 1ong case clock Hofburg, Vienna.
Fine astro. watch and repeating watch: British Museum.
Nos. of watches signed Quare are known from 233 to 4989. No. 4600 is about 1716.
Repeating watches had a separate series known from 109 to 857.
QUARE & HORSEMAN, London. 1718-33.
Partnership with Daniel QUARE, the style continuing after Quare's death until banktupt in 1733, when the business was prob.
taken over by PECKOVER.
Golden repeating. repoussé watch, set topazes and diamonds: Winter Palace, Petrograd.
The Nos. of watches signed QUARE & HORSEMAN are known from 4677 to 5503, and of repeaters from 843 to 1129.