MUDGE - Thomas. London and Plymouth
1715: born
1738: Clockmakers Company
1766: livery Clockmakers Company,
1794: died.
Apprenticed to, and worked for, GRAHAM.
He started in business in Fleet St. after Graham'a death in 1751.
One of the most eminent makers.
Invented the lever escapement about 1757, and made a lever watch for Queen Charlotte, but made few others.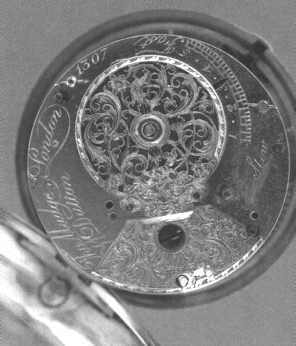 Was the first to use stones for pallets and impulse pins.
From 1771 worked on the development of the chronometer; sent his first for trial in 1774, eventually was awarded £ 3,000 by a Committee of the House of Commons.
Watchmaker to George III in 1776.
Entered into partnership with William DUTTON in 1755, and went to Plymouth in 1771.
Said to have made a minute repeating watch ca. 1750.
Published: 'Thoughts on the Means of Improving Watches, particularly those for use at sea.' London, 1765.
A rough guide to the dates corresponding to watch Nos, is: 1742: No. 51, 1755: No. 250, 1758: No. 460, 1759: No. 600.
                                                                     Golden watch with early cylinder-escapement ca. 1780
                                                                                 Signed: Tho.Mudge,W.Dutton, London  1307                                                                   
                                                                     
Remontoir centre seconds, verge watch made for King of Spain in 1755: Guildhall Museum
Repeater watch: Art Museum, Boston.