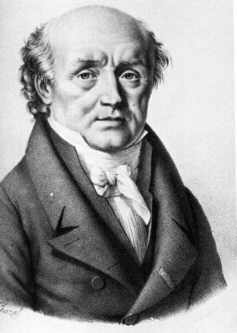 BREQUET Abraham-Louis, Neuchatel, Paris
1747: born at Neuchatel
1823: died
Started in Paris 1776, but watch No. 1 is of 1787. Breguet attracted the attention of Louis XV and set up in Paris on the quai de l'Horloge. He became a member of the Academy des Science.Very soon Kings, Princes and European celebrities were buying his watches. Breguet made the first "perfect&hibar; automatic watch, capable of running for eight years without being overhauled and without going slow. This watch still keeps perfect time today. Breguet's inventions meant that it was possible from then on to make watches accurate to within a tenth of a second. Thanks to him, considerable progress was made in marine navigation, astronomy and physics, and his contemporaries began to look at the time in the way you look at a jewel. Breguet signed his watches in the way that Boulle signed his furniture and Rembrandt his paintings.
The extra-flat watch was one of Breguet's inventions. The perpetual or automatic watch, the perfecting of so-called "multiple complication" watches, the balance spring, were all Breguet. The "tact" watch, the constant-force escapement and the tourbillon watch were also by him. It would take hours to list all his inventions. Many watches bearing his name were made outside and finished in his workshop. There are innumerable watches being his name in forgery. He made many improvements, including the parachute ca.1790, and the tourbillon in 1801, also many self-winding watches. He was the first to make lever escapement with lift partly on the pallets and partly on the teeth. The overcoil balance spring is known by his name. Draw was absent from early levers, but used after 1814.
Most important collections contain genuine and forged watches. The late Sir David Salomons had a collection of 102 watches and 6 clocks by Breguet.
Subscription watches: British Museum, London, Guildhall Museum. British Science Museum, S. Kensington
Striking cylinder watch and musical. repetition. cylinder watch: British Science Museum.S. Kensington
Tourbillon watches: Guildhall Museum and Ilbert collection. The latter, of 1808, was the first made.
Verge watch: Dennison collection.
Pedometer winding repetition watch No. 27 (1791), several watches and pedometer: Ilbert collection,
Regulators: Buckingham Palace and Conservatoire des Arts et Métiers, Paris