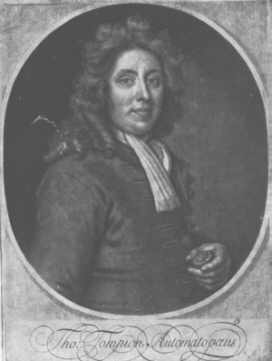 TOMPION - Thomas. London.
1639: born
1713: died
1671: free of Clockmakers Company,
1704: Master of Clockmakers Company,
One of the greatest clock and watchmakers; to his work is due the supremacy of English horology in the 18c.;
he made some of the first watches with balance-springs. He took Edward BANGER into partnership about 1701, then, appar-
ently, worked alone, and took George GRAHAM into partnership about 1711. On his death, in 1713, Graham continued alone.
The watches were numbered in three series, for plain, repeating and special watches, the numbering being continued from Tom-
pion to Graham. Approximate dates and numbers are: with sig. Thos. Tompion to 1701 (No. 3292 plain, No. 203 rep.);
Tho. Tompion Edwd. Banger from 1701-8 (No. 3252-4119 plain, No. 196-290 rep.);
Thos. Tompion 1709-13 (No. 4265-4312 plain, No. 359-392 rep.);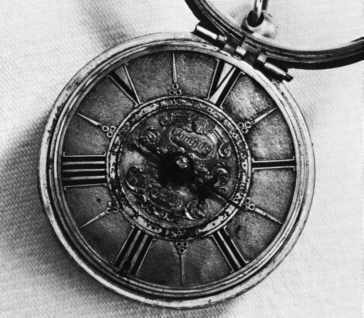 T. Tompion & G. Graham 1711-13 (No. 4369-4543 plain);
Geo. Graham from 1713 (No. 4669 plain, 393 rep.).
Examples of his watches and clocks in most collections. Several one-year clocks (two in Buckingham Palace), including a spring clock striking hours and quarters. Many watches, long case and bracket clocks illustrated of Cescinsky & Webster (English Domestic Clocks, London 1914).
Thirteen long case clocks, nine bracket and lantern clocks: Wetherfield. coll. (sold in 1928)
Gold, enamelled watch and small lantern clock: British Museum
Lantern clock four-month and lantern clocks and watches: Guildhall Museum,
and London M.
Watch and clock: Cassel Landes-Museum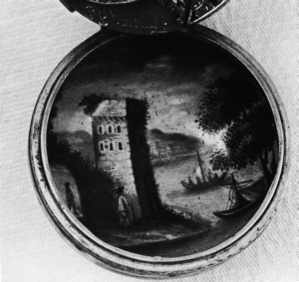 Six watches: Metropolitan Museum of Art, New York.
Gold, engraved watch: Mallett coll.
Early watch: Collection of the late Major Chamberlaine
Enamelled clock (OIGNION),
late 17.cent.,sign. Thomas Tompion,
Londres, single hand, silver 
champlevé dial. in- and out-
side enamelled, verge fusee and
chain
Enamelled watch: Carnegie Museum
Very early repeating watch No. 63, ca,1690: Ilbert coll.
Thomas, junior, nephew. London.
1694: apprenticed
1702: Clockmakers Company.
Imprisoned for theft in 1720. Heir to his uncle and prob. retired in 1713.
TOMPION & E. BANGER, London.
ca.1701-8. Banger was nephew, apprentice and assistant of Tompion, senior. v. Thomas (1).
Long case clock: Weth. coll.
Fine gold watch: British Museum
Striking and repeating watch movement: Guildall Museum.
Pair case watch: Science Museum, S. Kensington.
Gold repeating watch: Dennison. coll.
Bracket clock: illustrated of Cescinsky & Webster (English Domestic Clocks, London 1914)
TOMPION & GRAHAM, London.
ca.1711-13. Nephew and, from 1696, pupil of Tompion, senior, and succeeded him in his business.
Watches Ilbert and Webster colls. and movement. Guilhall Museum.
Long case clock Virginia M. signed 'Thomas Tompion and George Graham.' v. Thomas (1).